Rhythms & Reminiscences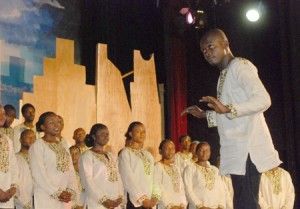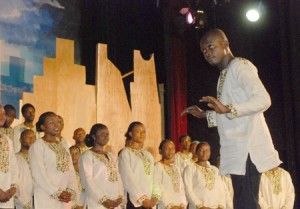 Moving from my virtual social life to my real one, I've been getting to see a lot of art & theatre during my stay here. Last month I got to see the Nigerian National Troupe perform at the National Theatre in a free musical show called Rhythms and Reminiscences.
Although it was called a musical show, there was actually more to it than just music. There were 2 comedians (including the host), and a performance of traditional dance and song from the 3 corners of Nigeria. The other comedian had a slow start on the laugh meter but he quickly ramped it up and soon had the entire audience in stitches. Sadly, I do not remember his name.
The real music took up the second half of the show with a performance from Zulezoo, a choir rendition of several traditional folk songs, and also a bunch of popular Lagos highlife songs. Many by Victor Olaiya. The highlife was spectacular and soon had people standing up from their seats to dance in the theatre. People including my mother. LOL.
I had never seen the national troupe perform before so I was quite interested to see how they would perform. My mum has always been a big fan and she highly recommended them. It was a good show, and while it wasn't exactly what I expected, having seen it, I highly recommend them too.